Frontrunners are at the heart our strategy; progressive citizens and their organisations, enlightened governments and innovative businesses. People who operate at the frontline of developments due to their great ideas, new solutions, high impact collaborations and lots of guts. We catalyze their innovative, persistent attempts to realize social change. We support them in bringing to scale their most promising solutions.
We link all parties, project partners and other international non-governmental development organizations alike, that can and want to be part of these solutions. We help to create an enabling political environment in which these solutions really stand a chance and can flourish.
Our three-step approach
We support frontrunners and develop ideas
We engage game-changing pioneers and frontrunners that inspire others. We have a keen eye for these innovators and offer them a platform, connecting them to different networks, provide start-up funding, training etc.
We connect multiple stakeholders and co-create solutions
We organize multi-actor platforms, "coalitions of the willing" that are able to transform ideas into solutions and help them grow and spread. We finance programs, ensure good monitoring and evaluations, and incorporate lessons learnt into future programming.
We influence policies and scale solutions
We bring solutions to scale by influencing policies at all levels of government and by triggering media interest in alternative solutions to persistent problems. We also scale out successful solutions to other countries and regions.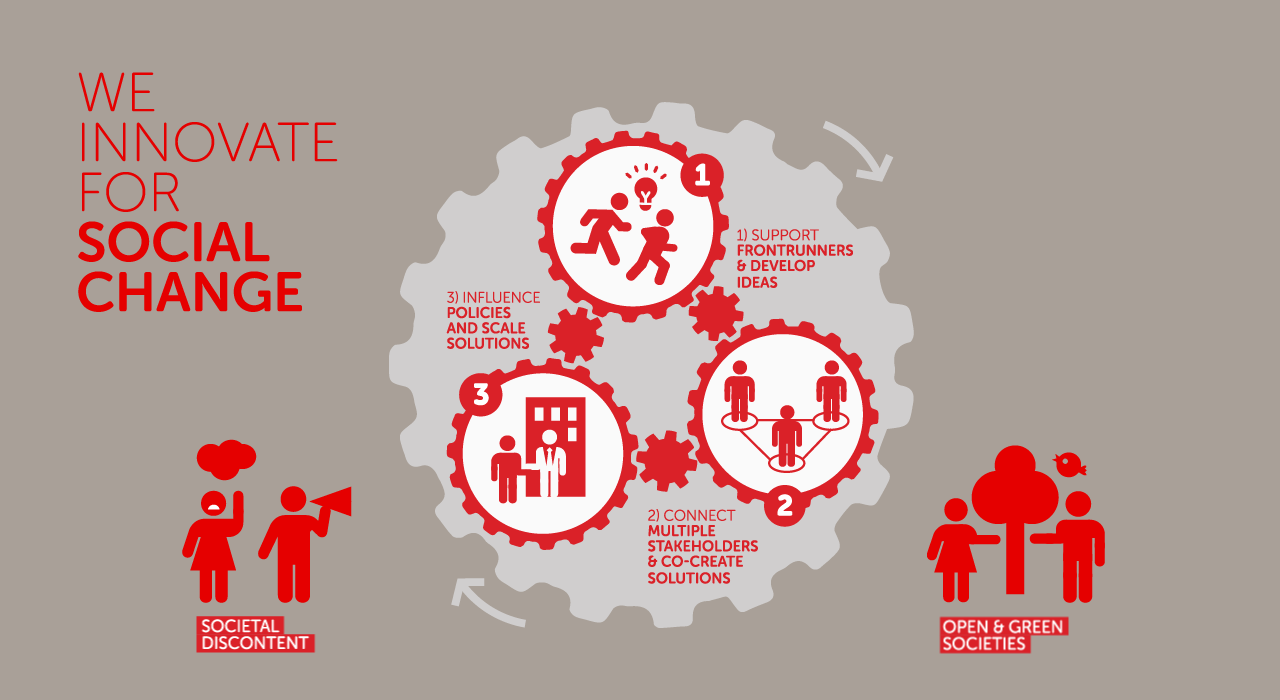 Our instruments
Network
We have a large, diverse and global network of partners that we engage in everything we do
Innovation and knowledge
We invest in knowledge and innovation to trigger change. By staying ahead of the curve in understanding social change and crises, we make our role and programs more effective;
Program development
We develop relevant multi-stakeholder programs and ensure they are properly managed;
Capacity development
We develop the capacity of organizations to increase their effectiveness. This ranges from enhancing basic management and administrative skills, to specialized training on international advocacy, networking and fundraising
Advocacy
We advocate for laws, regulations and markets to work in favor of marginalized groups. We support our partners in their advocacy and campaigning efforts and also directly mobilize citizens, policymakers and other relevant actors in the Netherlands, the European Union and at the United Nations;
Financing
We provide grants to partners and projects and experiment with other financing mechanisms such as crowdfunding and impact investing.
Our strategic plan guides our decisions on how and where best to spend our energy and resources.